ANNOUNCING OUR FINAL SEASON
SEASON 2020 •  PLAYHOUSE • MAY 23 – JUNE 7
As a subscriber you will receive a priority offer to our 2020 musical. 
ARTS CENTRE MELBOURNE • STATE THEATRE & PLAYHOUSE
The Production Company 
presents its 21stSeason of Broadway musicals with two Australian premieres and a new staging of an all-time favourite.
The Season begins in May with the Australian premiere of the David Bowieand Enda Walshmusical, Lazarus.  Inspired by The Man Who Fell to Earth, Lazarusis a ground breaking piece of music theatre. Starring Chris Ryanand iOTA, and featuring 18 David Bowie songs including Changes, Heroes and Absolute Beginners, Lazarusis directed by Michael Kantor.
In August, take a fun-filled ride into the heart of the roaring twenties with Thoroughly Modern Millie! Starring Annie Aitken as Millie Dillmount, a small-town girl who lands in New York City ready to make her dreams come true.  Australia's favourite leading lady Marina Prior is Mrs Meers – a dragon land-lady audiences will love to hate – and also starring Michael Falzonand Claire Lyon. Thoroughly Modern Millieis based on the 1967 Academy Award-winning film, and won six Tony Awards, including Best Musical.
And in November, don't miss Ragtime, a sweeping musical portrait of early 20th century Americabased on the best-selling book by E. L. Doctorow. With a Tony Awardwinning book and score, Ragtimestars Kurt Kansley and Chloe Zuel.  Ragtimebursts to life with music that will sweep you off your feet and a story that will break your heart.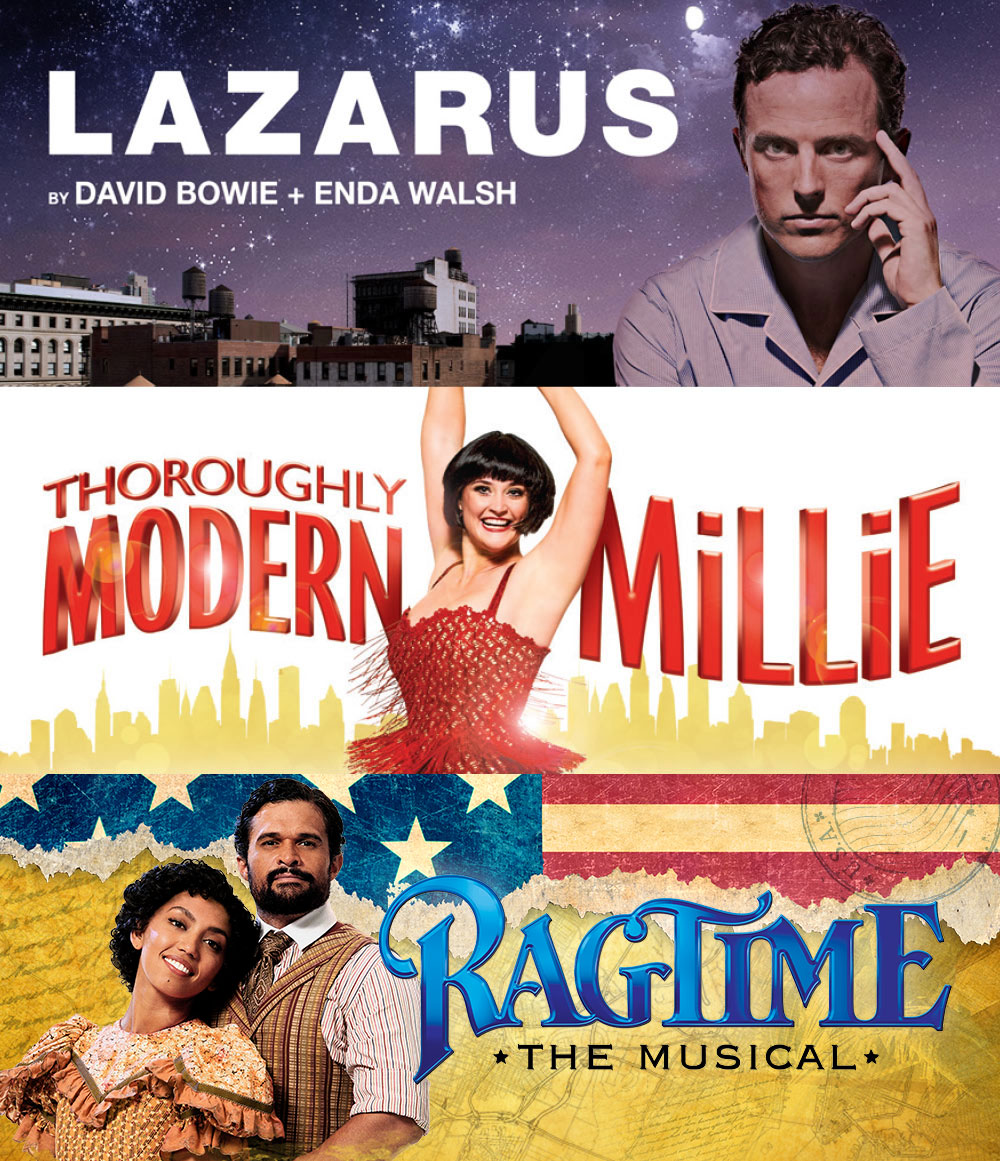 There's no better time to subscribe to The Production Company to see all three shows from the best seats and save. A record number subscribed to the 2018 Season, and this new season has all the ingredients to make it the most exciting ever.
Join The Production Company's mailing list and
receive full details of our 2019/2020 Season.